Moonbounce Rentals in Hiram with JumpTastic!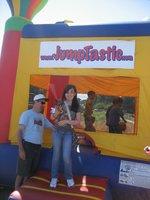 Moonbounce Rentals are a perfect centerpiece for any Hiram Children's Festival, Event or Party.
404.537.1805
Jumptastic is the Hiram, Georgia Area's Premier Moonbounce, Slide, Game & Party Inflatable Rental Company! Whether you're looking to add Inflatable Moonbounce rentals to your school, church, business, community festival or event, or you're hosting a exciting backyard party, we have what you need.
No Event too Big, No Party too Small.
We offer a huge selection of commercial inflatable Moonbounce rental products and event rental services. Choose from a selection of over 900 party and moonbounce rental items including many NEW items for this year!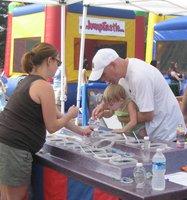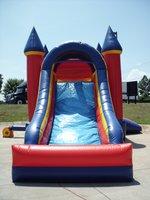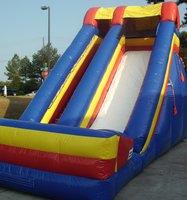 We offer delivery and set-up of Moonbounces to all Hiram festival and events, including Children's Birthday Parties, Summer Camps, Community Events, Family Reunions, Daycares, Religious Institutions and Schools. A nominal mileage fee may apply. Click here for a complete mileage fee chart.
You can reserve your inflatable moonbounce fun online 24/7. Simply click to enter the date of your event or party in the event calendar to begin.
To get some ideas to make your Hiram event more exciting, browse through Jumptastic's vast moonbounce rental inventory by clicking here or give us a call at 404-537-1805.
Our goal is to provide selection and value without sacrificing safety, cleanliness, and fun!
Our Large Event Service Area covers most of Georgia and the Atlanta Metro Area including: Forsyth County, Hall County, Gwinnett County, Fulton County, Dekalb County, Cobb County and other surrounding counties. Call 404-537-1805 for information on our Festival and Large Event solutions.
Jumptastic
At Jumptastic, we can help make your Hiram inflatable Moonbounce party the best. We specialize in children's party entertainment by providing quality inflatable rentals and other children's party products and party rental services:
Hiram, GA Moonbounce rentals
Hiram Moonbounce Inflatable Rentals
Moonbounce Inflatable Rentals Hiram
Moonbounce Inflatable Rentals in Hiram
Moonbounce Inflatable Rentals Hiram, GA
Commercial Moonbounce Inflatable Rentals Hiram, GA
Moonbounce Rental Hiram, GA
Moonbounce Inflatables for Rent Hiram
Moonbounce Princess Inflatable Rental Hiram, GA
Moonbounce Inflatable Party Rental Hiram, GA
Moonbounce Inflatable party rental Hiram, GA
Hiram, GA Moonbounce inflatable Jumper
Hiram Moonbounce Inflatables
Kids Moonbounce Inflatable party rentals in Hiram
Children's Moonbounce Inflatable Rentals Hiram, GA
Hiram, GA Moonbounce Inflatable Jumper Rentals
Hiram Dinsey Party Inflatable Rental
Toddler Moonbounce Inflatable Rentals Hiram, GA
Toddler Moonbounce Inflatables Hiram, GA
Inflatable Rentals Hiram
Kids Moonbounce Inflatable Rental Hiram, GA
Moonbounce Bouncy Houses Hiram, GA
Hiram Moonbounce Birthday Inflatable Rental
Moonbounce Inflatable Rental Hiram, GA
Inflatable MoonbounceRentals Hiram
Girl Moonbounce Inflatable Rentals Hiram, GA
Hiram Moonbounce Inflatable Jumpers
Fun Moonbounce Inflatable Jumpers in Hiram